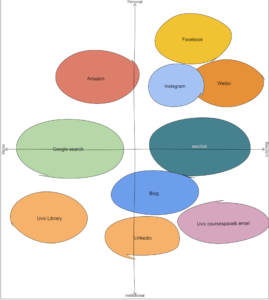 This is my own Visitor & Resident Map where we can see that I use many our univserity platforms as institutional sources.
Also, as a  part-time employee of company, I use Wechat to communicate with cutomers and share some of my personal life status.
What digital platforms are students currently using to develop their professional network?
From my personal point of view, LinkedIn and Dropbox are two most commonly used digital platforms to develop students' professional network. I will post my academic experience on LinkedIn's profile. LinkedIn is also a good platform to look for many of the best job opportunities in the industry (van Dijck, 2013). Besides, I will upload assignments required by the course to Dropbox and share them with my classmates. On the other hand,  as an economics student, I like to view and comment on some economic forums such as The GREAT Reddit Bureau of Economic Research and Economics Forum | Debate.org. Compared with social media, these forums are more professional and targeted. The advice found here is more accurate, and it is easy to get to know the experts in the specific field.
What can you (as a student) consider to expand your professional learning network?
At first, as a student, we need to improve our ability to independently search for information from digital platforms, and change from receiving information passively to actively searching for information. Then we can find out the submerged quality information and apply it. Secondly, students should establish their own closed online learning network. Many drawbacks that we discuss in previous blogs basically exist on the open social network platform, while own closed online discussion and learning platform rarely has such problems. Mattermost Group, Forum and Facebook group all have this feature that people outside the "circle" (such as interest or specialized subject) need to be recommended and reviewed by at least one insider to enter the social "circle". It is necessary for students to establish a professional learning network based on the research orientation of common interests, and have their own set of access mechanisms to ensure efficient and high-quality discussions. Finally, we must not only develop a professional network in our own field, but also take advantage of the extensive social networking features of the Internet to obtain various aspects of knowledgepects and get in touch with professional people from all other fields.
In your network, how can you create a digital identity/reputation?
When creating our own digital identity, we need to distinguish between personal and professional network. If it is a personal network, your digital identity can be based on your hobbies such as basketball or Harry Potter enthusiast. You can share stories and insights of life, as well as some artistic photos. For personal digital identity, people can determine the percentage of "Visitor" or "Resident". However, when building a digital identity on professional platforms such as LinkedIn, we have to consider ourselves as a personal brand. We need to describe our information, school background, internship experience and job responsibilities as accurate as possible. In addition, we may use some funny avatars to attract attention in personal social media, but for professional identity, this kind of  avatar will make your potential employer think that your attitude at work is too frivolous. At last,  whether it is a personal or professional identity, use your online information as your public relations tool to show your achievements and creativity, never avenge and attack others.
Consider what a local employer would do if you applied for a job with them – can they search the content, is it of benefit to the career path, does it hinder the opportunity of employment?
Accoring to CareerBuilder survey (2018), 70% of recruiters use social media to check candidates during the recruitment process, and about 48% of managers use social media to moniter on current workers.  Most employers say that they use social networks to check candidates' unprofessional behavior, such as complaining about their former employer or discussing drug use. Many of job seekers think their personal account activities are privacy and they can decide who can see what. This is totally wrong because once an employer enters your name in Google Search, they will see all activities including  inappropriate remarks even though it is not posted on your professional account. And those job seekers don't even know they lose the opportunity of employment due to the bad personal identity. In short, people should not ignore the impact of digital identity on real life because of its virtuality and multiplicity. Digital identities on all social platforms should be healthy and positive. Do not use privacy policy as protection for discrimination and attacks.
Reference
van Dijck, J. (2013). 'You have one identity': Performing the self on facebook and LinkedIn. Media, Culture & Society, 35(2), 199-215. doi:10.1177/0163443712468605
More than half of employers have found content on social media that caused them NOT to hire a candidate, according to recent CareerBuilder survey. (2018, ). PR Newswire